When you get a honking zit or a breakout across your chin or nose, you probably think, "Ugh, not again." Well, guess what? So do dermatologists. Luckily, they have the experience to know just how to take care of pimples that pop up and prevent new ones from forming in the first place.

They have access to tons of products—so you know anything derms choose to use on themselves are the best of the best. And sometimes they're right there with you, picking up over-the-counter zit zappers, too. There are a few ingredients that they prioritize to keep pores clear of clogging debris (think: salicylic acid, glycolic acid), while others are great for killing p. acnes bacteria that causes pimples to erupt (bless benzoyl peroxide).
In addition to snatching up top-notch OTC products containing these ingredients, you may also consider connecting up with your dermatologist for something stronger. Jennifer MacGregor, M.D., a dermatologist at Union Square Laser Dermatology in New York City, often prescribes her acne-prone patients topical Aczone (7.5 percent), a topical medication that contains an acne-fighter called dapsone. "It's non-irritating, works on multiple types of acne, and works well with other OTC topical skin care products," she says.
We turned to six dermatologists about the products that they recommend for patients—and like to use on their own skin when issues arise. From face washes to creams, spot treatments, and an entire acne-fighting system, here are the ones that contain the need-to-have ingredients that actually work to clear your skin. Use them consistently, and we can pretty much guarantee you'll see a difference in your complexion.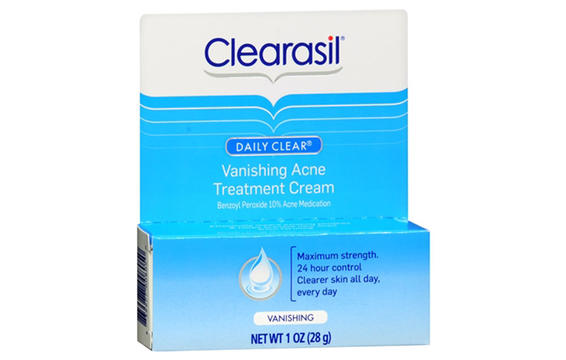 CLEARASIL DAILY CLEAR VANISHING ACNE TREATMENT CREAM
"My favorite over-the-counter product to battle acne is benzoyl peroxide 5 percent cream," says Marisa Potter, M.D., a dermatologist with Advanced Dermatology & Cosmetic Surgery in Aventura, Florida. The active ingredient is more important than the brand, but Clearasil is a tried-and-true product. She recommends using a small amount once per day for acne (though, be warned: it can bleach your clothes and pillowcase).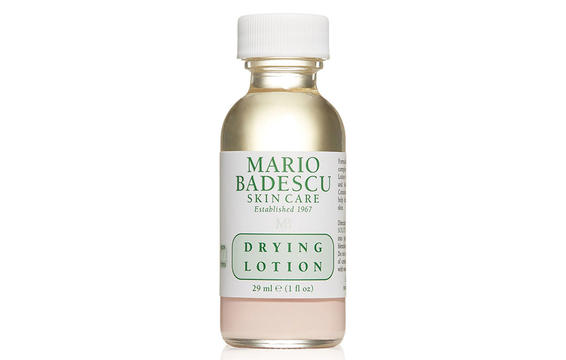 MARIO BADESCU DRYING LOTION
You're looking at a derm's go-to over-the-counter spot treatment when she needs to get a zit to dry up fast. "This product has found a permanent home in my medicine cabinet," says New York City dermatologist Lian Mack, M.D. "Containing sulfur, salicylic acid, and calamine, it easily eliminates my random breakouts," she adds.
CLARISONIC SKIN CARE BRUSH
"This is a great tool for exfoliating the face to effectively remove pore-clogging dead skin cells," says New York City-based cosmetic dermatologist Paul Jarrod Frank, M.D. You also get the bonus benefit of reducing the excess sweat and oil that may lead to acne. "Using the Clarisonic will also help increase the efficacy of the skincare products you apply," he adds. Score!
LA ROCHE POSAY EFFACLAR DERMATOLOGICAL ACNE SYSTEM
With a medicated gel cleanser, clarifying solution, and acne treatment, this takes care of acne from all angles. "This is the best system," says Elizabeth Tanzi, M.D., founder and director of Capital Laser & Skin Care and associate clinical professor at the George Washington University Medical Center. "Just like the other popular acne systems, it has salicylic acid and benzoyl peroxide, but the "secret" ingredient that makes this a winner is the LHA micro-exfoliator. It helps to gently clean pores without irritation," she says.
DIFFERIN ACNE TREATMENT GEL
This is a common derm favorite, and New Orleans dermatologist Deirdre Hooper, M.D., of Audubon Dermatology, is just one of the dermatologists who swears by it. "I love Differin for acne and off-label for brown spots and texture," she says. Containing the retinoid adapalene, it unclogs pores and calms inflammation. Since it can be drying, she recommends using a pea-sized amount and blending it with a moisturizer before applying.
SKINCEUTICALS LHA CLEANSING GEL
This is one product derm Jennifer MacGregor, M.D. regularly uses in the morning. This gentle glycolic acid-based cleanser is ideal if you have oily skin and are susceptible to getting blocked pores, she says. Use it in the morning, and follow up with a light oil-free sunscreen moisturizer, she recommends.