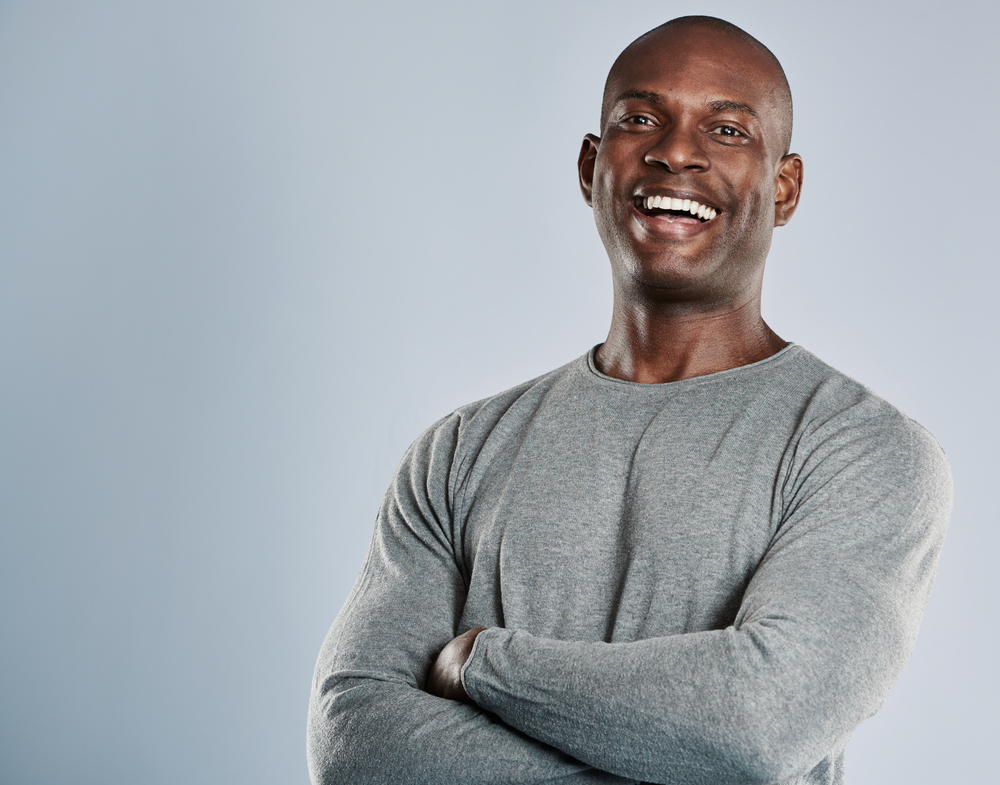 One of the biggest misconceptions about people with skin of color is that they are not susceptible to UV damage and signs of aging.
Not only that, but many individuals believe that men don't need a customized skin care routine.
In actuality, individuals with darker skin tones and men both need to take measures to keep their skin healthy and looking its best.
Keep reading to learn which skin concerns that are unique to men with skin of color and how skincare for black men should be geared towards their individual needs and goals.
How does skin of color differ from other skin tones?
According to aesthetic experts, there's not a one-size-fits-all skincare regimen, and individuals should seek the products and treatments that are best-suited for their skin.
Characteristics of Men's Skin
Compared to women, men tend to have thicker skin due to terminal hair follicles, which help combat wrinkles. However, these richly-pigmented and dense follicles also make their skin more vulnerable to sun damage.
Additionally, as men's testosterone levels increase after puberty, so does their production of oil and sweat. This factor puts men at greater risk for acne and breakouts.
Characteristics of Skin of Color
While individuals with darker skin tones are somewhat less likely to sustain UV damage than those with lighter complexions, they are more susceptible to excess melanin production (hyperpigmentation) in response to an injury.
What's more, patients with skin of color experience a higher rate of skin cell turnover, which protects against lines and signs of aging. Their skin also has tighter adhesions in the dermis that offers improved hydration and moisture levels.
What Are the Unique Skin Concerns for African American Men?
Based on these factors, African American men are more prone to certain skin issues, including:
Ingrown hairs, razor burn, acne, hyperpigmentation, and dry skin.
However, these concerns may also be impacted by each man's skin type whether it's normal skin (neither dry, oil, or sensitive), oily skin (prone to excess sebum production and acne), dry skin (prone to feeling tight, peeling, or flaking), sensitive skin (prone to inflammation, itchiness, and reactions), or combination skin (certain parts are dry, while others are oily).
What's the best skincare for black men?
The best skincare for black men should include cleansing, exfoliation, and moisturizing that cater to their unique concerns and goals.
1. Cleansing
While most men should commit to using a gentle cleanser 2 times a day (once in the morning and once in the evening), African American men with oily skin may need to use a product that contains salicylic acid 3 times a day.
On the other hand, those with dry and sensitive skin should be especially careful to avoid cleansers with fragrances or harsh chemicals that can exacerbate flaking and reactivity.
2. Exfoliation
Consistent exfoliation is one of the key components to an effective skincare routine. That's because its gentle scrubbing particles and moisturizing ingredients remove oil, dirt, bacteria, and dead skin cells for a smoother and clearer complexion.
It's especially important for black men with acne-prone skin to exfoliate once a day with an acid-based cleanser for oil control and breakout prevention.
Comparatively, a light exfoliating scrub, without acids or abrasive agents, is suggested for individuals with dry skin.
Nevertheless, African American men of all skin types should take care to exfoliate before and after shaving for softer skin, with fewer ingrown hairs and razor bumps.
3. Moisturizing
Applying a facial moisturizer that has a 30 SPF or higher is recommended for all men. However, it should be a priority for African American men with dry and sensitive skin, as moisturizing the face and neck daily wards off unevenness and hyperpigmentation.
In addition, a moisturizing aftershave, without alcohol or menthol, will nourish and hydrate the skin for improved tone and texture.
To learn more about the best skin care routine for your unique concerns and goals, call our office today to schedule a consultation.
The skincare experts at GlamDerm will work with you to develop a customized plan for a smoother, brighter, and clearer complexion.