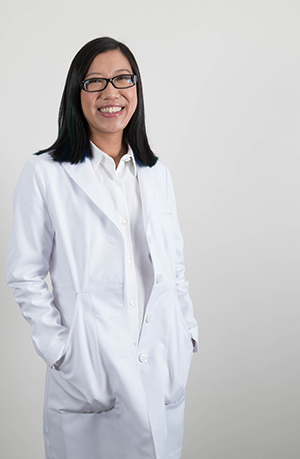 Vinita Hom
Vinita Hom is a New York state-registered and national board-certified physician assistant since 2007. A native of Forest Hills, Queens, she graduated with honors from the prestigious Physician Assistant Education Program of St. John's University and began practicing dermatology upon graduation.
While completing clinical clerkships, Vinita has always kept dermatology as her key field of interest. Vinita has extensive clinical training in managing various conditions such as acne, eczema, psoriasis, fungal infections, hair loss, and warts. She also performs chemical peels, microdermabrasion, photo-rejuvenation lasers, mole evaluations/removals, skin cancer screenings, and biopsies. In addition to diagnosing skin, hair, and nail disease, she also specializes in treating skin of color.
Vinita believes that utilizing a multi-disciplinary approach is vital in maintaining beautiful and healthy skin. During your visit, she will work alongside you to address your concerns and help create a regimen that will keep you looking and feeling your best.